Borrow'd - Sell or Rent Textbooks on Campus
Platform: iPhone & iPad
Author: Borrow'd, Inc.
Category: Shopping
Version: 1.6.1
Downloads: 1530
---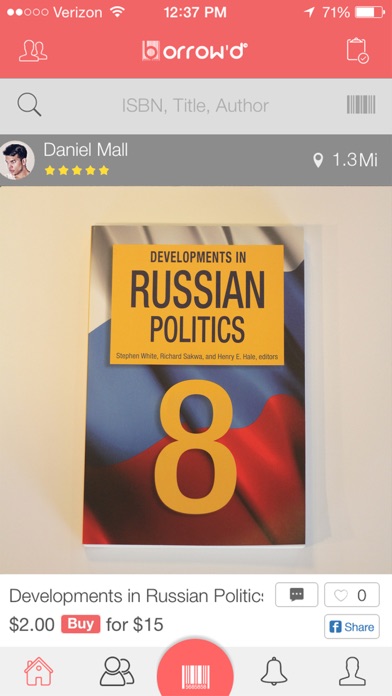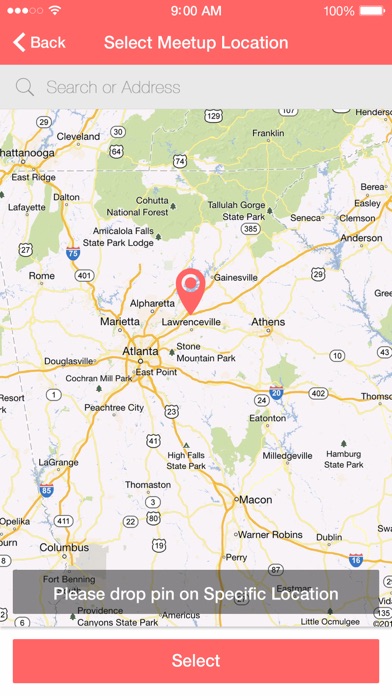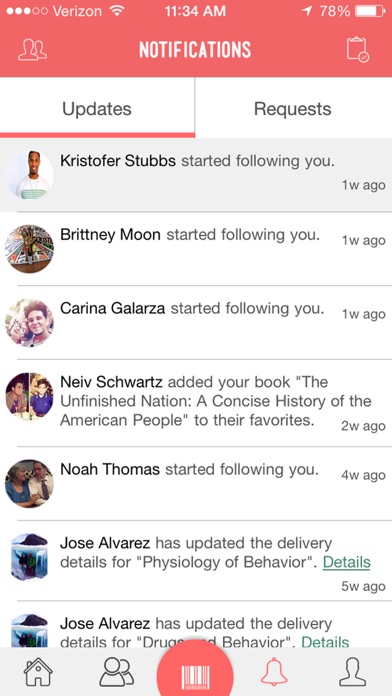 ---
App description:
Tired of getting ripped off at the bookstore? Wish there was a way to make money from your textbooks? Well, look no further! Borrow'd lets you rent out or sell your textbooks directly to other students on your college campus.

Just how much can you make using Borrow'd instead of the bookstore? Let's do some quick math, shall we? Let's use Zach as an example:

Zach bought his Pre-calc textbook at the beginning of the semester for $300. By the end of the semester, he's ready to get rid of every memory of taking this class, and this includes his textbook. Zach skips to the bookstore in an ever so jolly spirit. When he arrives, the Bookstore offers him a whopping $5 for his textbook. Instead of taking this offer, he rents out his book on Borrow'd for $75 a semester for the next 4 semesters, makes back his $300, and then sells it for $125. He's now made a total of $425 on the same textbook of which the bookstore generously offered $5. 

Do you see the value here? We invite you to download the app and try it out for yourself! It's free to download, so what are you waiting for?


Here's a little guide as to how to use the app:

Listing books is easy. Simply tap the barcode button in the bottom menu bar, and scan the barcode of your book. Then, quickly add photos of the book, a short description, your rental/sale terms, select a meet up location, enter your book's value (which is also the sale price should you decide to sell), specify your daily, weekly, monthly rental price, and whether you'd like to sell the book. When someone wants to borrow or buy your book, the app will notify you instantly. 

Did we mention all payments are done through the app? So, no need to handle cash. Borrow'd requires every user to pay through the app to ensure the safety and security of each book and transaction. So, in other words, no need to worry about not getting paid, or not getting your book back. In order for a borrower or buyer to set up a location or time to meet, they must first pay for the book. In the event they do not return your book, they will be charged the value of the book (minus what they've already paid), and you will be reimbursed. We do this through our two step verification system that ensures the delivery and receipt of each book. In addition, you both review & rate each other, which allows for the best customer experience. See terms and conditions for more details.

Finding the books you need to borrow or buy is a walk on the beach. You can either scroll through the feed of textbooks near you, or search for the book you need using the search bar, conveniently located at the top of your screen. You can search via ISBN, book title, or author name. You can even scan the barcode of a book to search- a very useful feature for quickly checking current textbook prices on the app for a book you'd like to list. 


Download Borrow'd and start spending less, and living more!

Disclaimer: Extreme satisfaction from using the app may lead to bursts of joy and extra money that you might not know what to do with.

Follow us on social media!

http://www.facebook.com/borrowd
http://www.twitter.com/borrowdapp
http://www.instagram.com/borrowdapp
TAG: app, iPhone & iPad,Shopping
---
Similar Apps
---
More from developer
---