infltr - Infinite Filters
Platform: iPhone & iPad
Author: YOOSHR LTD
Category: Photo & Video
Version: 2.10
Downloads: 6K
---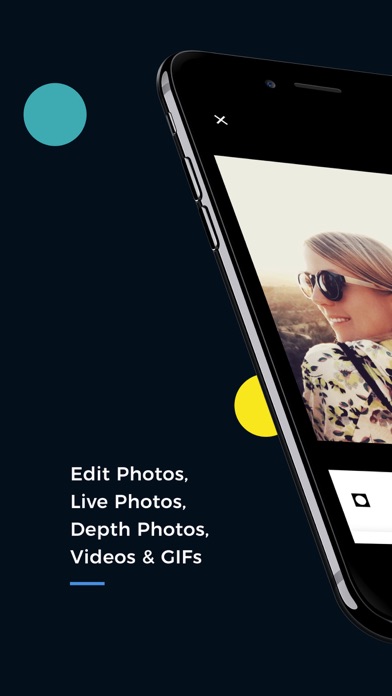 ---
App description:
infltr is the only App letting you to edit: Photos, Videos, Live Photos, Depth Photos & Animated GIFs. There is an infinite number of filters to choose from.

 • Wired: "it will certainly break you out of your Mayfair dependency"

infltr stands for "infinite filters". Keep panning in any direction to discover more unique looks for your photo. There are over 7 million filters to explore. When you find a one you like, save it to your favourite filter collection! There's nothing simpler, or more beautiful to use.

 • Tech Crunch: "infltr is again breaking new ground"

12 new adjustment tools to enhance your photos, Live Photos, videos & GIFs:
  - Saturation, brightness, contrast, tint, temperature & filter intensity.
  - Crop: 17 different presets.
  - Transform: rotate, straighten, flip horizontally & vertically, perspective horizontally & vertically.
  - Undo edits & view the history of your edits.

 • Fast Company: "one of the few-must have photo apps"

We believe in making mobile photography more intuitive. That's why you can add your filter before you capture your photos & Live Photos. Or use the editor to filter existing photos, Live Photos, videos and animated GIFs!


 • The New York Times: "it's fun"

infltr is the only app that lets you filter your panoramic shots in HD. If you use Photoshop, Illustrator or Lightroom, connect your Adobe Creative Cloud account for even greater creative freedom. infltr also supports editing from and to Dropbox and the new Files App.

 • New Scientist: "give smartphone snaps more than five million different filters"

Our patent-pending technology presents only the very best filters so you can create better pictures, faster.
Not enough?
  - Be social and impress your friends by sending them cool shots directly from infltr's iMessage App.
  - Use your Apple Watch to change filter and fully control the camera remotely.
  - Discover a new filter everyday from infltr's Today Widget.

 • Peta Pixel: "more filters than you could dream"

infltr was named "Best New App" by Apple in over 150 countries at launch and with every update, we aim to do better. We really value your feedback so please don't hesitate to drop us a line at: hello@infltr.com
TAG: app, iPhone & iPad,Photo & Video
---
Similar Apps
---
More from developer
---