10,000+ Wallpapers for iPhone 6/6 Plus
Platform: iPhone & iPad
Author: Tick Tock Apps Inc
Category: Lifestyle
Version: 2.2
Downloads: 15K
---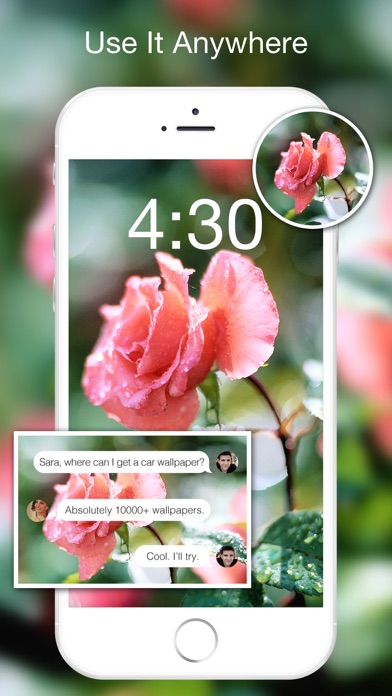 ---
App description:
Hey, you there, staring at your iPhone 6 retina screen! Tired of boring images and themes that put you to sleep? What you need is an awesome background to spice up your life. Or, perhaps over 10,000 wallpapers?!

Everybody knows your iPhone 6 and iPhone 6 plus is a sweet machine. It's got that smooth retina screen, slick icons and more apps than you can shake a stick at. But what everybody doesn't know is how awesome you are, and that's because you're still using the same boring background themes that shipped with your iPhone 6. Swirls and dull patterns? Seriously?

With over 10,000 wallpapers to choose from, you're guaranteed to find a background that's perfect for you. Funny and smart? Hip and progressive? Dark and dangerous? Not a problem, we've got plenty of themes that will spice up your retina screen. All you have to do is download and start browsing. The hardest part will be choosing which wallpaper to use!

Features:
- Customize background themes to spruce up your retina screen.

- Set themes for your iPhone 6 and iPhone 6 plus with a few quick taps.
- Show off your awesome personality with the best wallpapers!

How to Use this App:
- Tap the screen to select your favorite image.
- Apply the changes and enjoy your new theme!
- Change backgrounds at any time, it's easy!

________________________

Want to know more? Come check out our social media! 

Become our fan on Facebook! https://www.facebook.com/Tick-Tock-Apps-684479768321855/
TAG: app, iPhone & iPad,Lifestyle
---
Similar Apps
---
More from developer
---