FarFaria Stories To Read Along
Platform: iPhone & iPad
Author: INTUARY, INC.
Category: Education
Version: 3.42
Downloads: 617K
---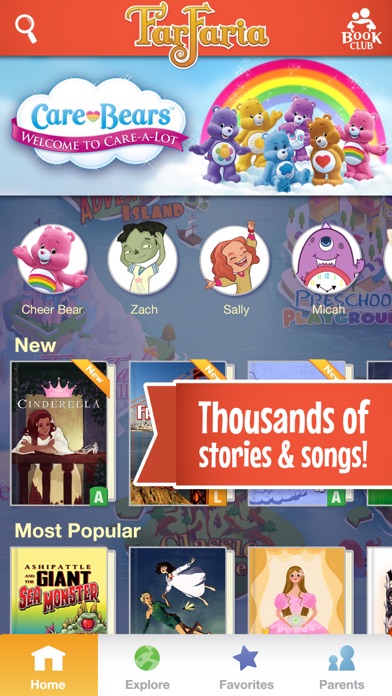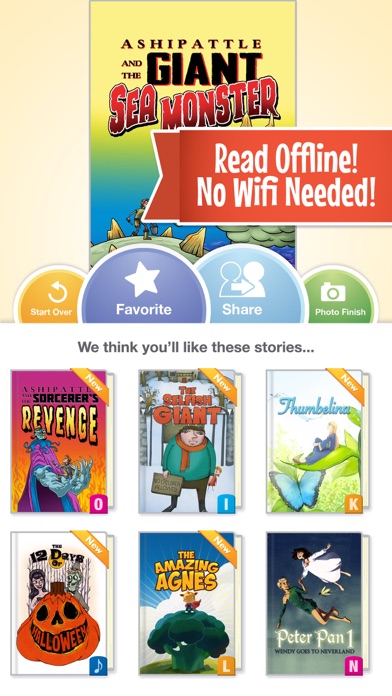 ---
App description:
- "Brain Expander" –Parenting Magazine
- "Netflix for Children's Books!" –USA Today
- "A SOLID literacy tool." –Common Sense Media
- TWO-TIME FAMILY CHOICE AWARD WINNER!
It's proven kids read more with FarFaria! 

FarFaria offers thousands of picture books and new stories every week, so it's easy for parents and tons of fun for kids. Install to start reading today for free!

Features:
- Unlimited reading! Curated library of thousands of popular children's ebooks for kids 1-9
- New books added every week!
- Read-to-Me in EVERY story, with word highlighting to help young readers. 
- Standards-aligned reading-level badge on every book cover to build your child's confidence.
- Offline access to Favorites keeps the kids reading everywhere you go.

FarFaria helps your children develop a love for reading. Our library of popular educational books is curated for kids ages 1-9 and includes new hits as well as classics such as Rapunzel and The Wizard of Oz. Books have Common Core reading levels to empower kids to read MORE on their own and include a read along option with highlighted text for a personalized reading experience. 


How it works:
- Get Started for FREE! No subscription needed!
- Select one book per day for free from our 900+ library of curated children's books. 
- Receive new books each week. 
- Subscribe for just $4.99/month to unlock unlimited access. 
- Subscription can extend to up to five connected iPhones and iPads.
- Payment will be charged to your iTunes Account at purchase confirmation.
- Your subscription will auto-renew monthly. Your credit card will be charged via your iTunes account. You can cancel at any time from your iTunes account settings.

What parents are saying:
- "It's like going to the library everyday." –Sue, Mom of one 
- "Best of all, there are new titles all the time." –Sara, Mom of three 
- "My daughter asks for this every night!" –Jose, Dad of one
- "If my children only had one app, this would be it." -Angie, Mom of three

Our collection of story books includes:
 - Cinderella
 - Wizard of Oz 
 - Peter Pan
 - Rapunzel
 - The Princess and the Pea
 - Jack And The Beanstalk
 - Beauty & The Beast
 - Pinocchio  
 - The Pied Piper
 - The Three Billy Goats Gruff
 - Three Blind Mice
 - Three Little Pigs
 - Frog Prince
 - Rumpelstiltskin
 - Goldilocks and the Three Bears
 - Thumbelina
 - Puss In Boots
 - Sleeping Beauty
 - Snow White
 - Robin Hood And The Golden Arrow
 - Sword in the Stone
 - Aladdin And The Magic Lamp
 - The Little Mermaid
 - Jonah And The Whale
 - Hush Little Baby
 - Wheels On The Bus 
 - Eensy Weensy Spider
 - Twinkle, Twinkle, Little Star
 - Yankee Doodle
 - Down By The Bay 
 - Jingle Bells
 - I've Been Working On The Railroad
 - Take Me Out To The Ball Game
 - Farmer In The Dell 
 - Green Grass Grew All Around
 - Little Red Hen
 - Emperor's New Clothes
 - Ugly Duckling
 - Tale Of Peter Rabbit
 - Duck Duck Goose
 - The Tortoise And The Hare
 - Golden Goose
 - Chicken Little
 - Boy Who Cried Wolf
 - Mouse And The Lion
 - Paul Bunyan
 - Johnny Appleseed And The Bear
 - Casey At The Bat
 - Annie Oakley
 - Amelia Earhart
 - Betsy Ross
 - Benjamin Franklin: Inventor
 - Paul Revere
 - Romeo And Juliet
 - Tom Sawyer Paints The Fence
 - Treasure Island
 - Hunchback Of Notre Dame
 - The Prince And The Pauper
 - Frankenstein
 - Dracula
 - Legend Of Sleepy Hollow
 - Dr. Jekyll And Mr. Hyde
 - Little Red Riding Hood
 - Hansel And Gretel
 - Noah's Ark
 - David and Goliath
 - Daniel In The Lion's Den
 - Judah And The Maccabees
 - The Three Kings
 - Thor's Magic Hammer
 - Hercules And The Hound
 - A Christmas Carol
 - The Nutcracker Prince
 - Twas The Night Before Christmas
 - Krishna Lifts A Mountain
 - Ramayana: Ram's First Battle

Learn about new stories first by following us at facebook.com/farfaria and @farfaria 

We respect and value your privacy. You can view our Privacy Policy and Terms of Use here: http://www.farfaria.com/privacy.html.
TAG: app, iPhone & iPad,Education
---
Similar Apps
---
More from developer
---