Puzzle Sky Blox
Platform: iPhone & iPad
Author: Advanced Mobile Applications LTD
Category: Games
Version: 1.3.6
Downloads: 60K
---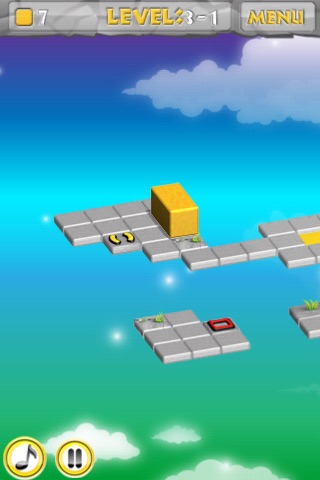 ---
App description:
Sky Blox Puzzle is a totally addictive and challenging puzzle game that will keep you hooked for hours! 

So easy to play but hard to master, this game will make you crazy!

Your objective is to move the block throughout the level and try to slot it vertically into the yellow tile. 

The game boasts 80 levels split into four packs catering for all types - from laid back gamer to dare devil player!
It starts simple enough with the rookie level, but as you progress through the 3 other levels that can be downloaded directly from the game, new elements are introduced and the difficulty increases. 
 
The game features excellent graphics and can be played and controlled using either the touch or accelerometer!

Sky Blox Puzzle leaves no room for boredom or repetitiveness with a random gameplay function, and also records how many moves it take you to complete a level so you can beat your own personal best!

And what's more, Sky Blox Puzzle lets you access your own Ipod music library so you can play whenever you wish to your fave tunes!


• Addictive gameplay: easy to play, hard to master!
• Endless hours of fun!
• Fully optimized for the touch screen with both landscape and portrait display
• Two types of controls: touch or accelerometer
• High Quality Graphics
• Four difficulty levels for all types of players
• iPod music library access: listen to your own music while playing the game
TAG: app, iPhone & iPad,Games
---
Similar Apps
---
More from developer
---