BaseballEMOJI - Custom Keyboard Sports Stickers
Platform: iPhone & iPad
Author: Go4Square LLC
Category: Sports
Version: 1.1
Downloads: 48
---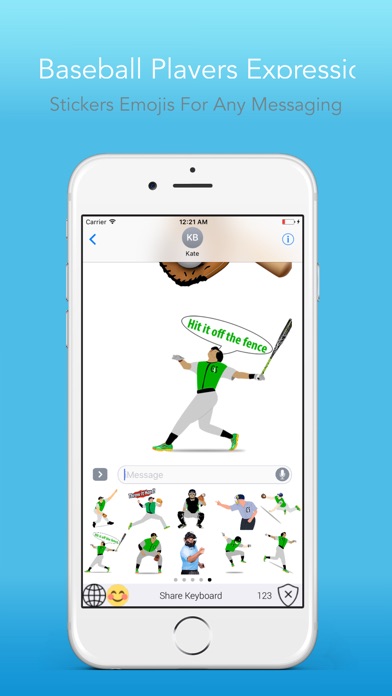 ---
App description:
For all Baseball sport fan lovers… here we are launching cool 50+ Baseball emoji custom keyboard stickers. This keyboard stickers are extremely easy to install and it contains 5 sets of 10 unique images in each categories.
You can use these Baseball and Softball fun emoji sports stickers while chatting, texting and messaging with your friends and family members. 

High quality and uniquely crafted Baseball and softball sports theme sticker images are super entertaining to use during any of your text conversation simply copy and paste the images. Emojis highlights and demonstrate real core technicality of baseball game. 

This keyboard stickers supports on any messaging, texting or emailing system which includes iMessage, WhatsApp, Wechat, Skype,iMO,Facebook Messenger, emails, texting, snapchat,viber etc.

We are confident that you will certainly love and enjoy these stickers pack which will enlighten your conversation with your loved ones. 

Also, this app supports iMessage stickers app along with Keyboard app.


1) We have 50+ Baseball and softball Emojis with amazing expressions and techniques on the field
2) Great player athleticism displayed through emoji's
3) Players with specialized skills are available like batters, catcher, 1stbase, 2ndbase, Short Stop, 3rdbase, Left, Center & Right Field
4) Some funny and cool stickers
5) Variety of players pack High Performing, High Expression, Slow Moving Players, Baseball Gears and we also have Baseball Trophies.
6) Available players set Red and Green, Baseball Gears, Baseball Trophies.

No in-app-purchases are required for this app. All images are available.

Note: This app doesn't store or request for any of the users personal information. Also if you want to contact us for feedback and support. Please reach out to us at contact@go4square.com
TAG: app, iPhone & iPad,Sports
---
Similar Apps
---
More from developer
---