NOAA Weather Alerts & Hi-Def Radar Severe Push
Platform: iPhone & iPad
Author: Saliha Bhutta
Category: Weather
Version: 1.2
Downloads: 1612
---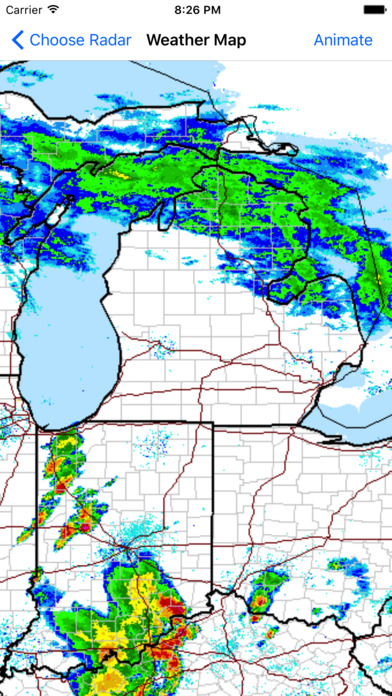 ---
App description:
NOAA Weather Alerts is the most simple weather app that continuously checks warnings issued by NOAA and sends audible alerts even when your device is off or in the background! With a list of 120+ warning we have got you covered for every possible weather scenario. 

Look at our 5 star rating and buy with confidence!

You can create unlimited locations of your loved ones, family & friends and inform them when a weather alert is issued by NOAA for their areas. 

Real User Review: 
Great for keeping track of weather at out of state family homes – May 22, 2017
I use this app to monitor my out of state relatives severe weather, great and accurate alerts. Very handy to know if they might need to crash on my couch if they are told to evacuate

Features
• Universal app. Download it once and use it on all Apple devices.
• Create & Add unlimited number of USA cities to monitor weather.
• NOAA weather alerts are checked continuously every 15 minutes non stop throughout the day everyday 7 days a week, 365 days a year. Weather doesn't take a break nor does our app.

• NOAA Radar and Maps to show warning and weather related activity right in your state.
• Tons of national weather maps that show detailed pictures of entire continental USA
• Added moving NOAA weather Radar maps that show weather progressing through timeline
• With one push of a button NOAA weather warnings for all your chosen cities are displayed
• App works in background and send you audible weather alert notifications when there is an alert issued by NOAA
• It has 120+ different type of NOAA alerts
• Check and uncheck NOAA alerts that you want to get notified of. You have complete control.
• Narrow your city & state search down with a search bar or Zip Code
• Check NOAA alerts per city basis

NOTE: This app supports USA cities only and gets latest weather alert data from NOAA. You need to be connected to internet through WIFI, 3G / 4G for this app to work in background or foreground

*******************************
**** TROUBLESHOOTNG TIPS ****
*******************************
1. Sound Problem
If you are experiencing a problem with notification sound then its the sound settings on your device and not the app that is the problem. Check this youtube video to troubleshoot your issue. https://www.youtube.com/watch?v=SDf1LDcE95Q

OR Try these steps here
http://www.iphonetopics.com/no-notification-sound-on-iphone-ipad/
https://www.imobie.com/support/notifications-not-working-iphone-ipad.htm

2. No Notifications
If you don't see any notification from our app then follow these steps.

- First make sure your device is connected to wifi,4G,LTE.
- Go your device Settings app under General -> background app refresh. Make sure the button is green
- Now go under device Settings app under General -> Notifications -> NOAA Alerts -> Make sure ALL the buttons are green
- Also make sure the "Alert Style When Unlocked" is selected as "Banners"
- Now launch our app. See if there are any alerts shown.
- If there aren't any then we cannot continue our test as NOAA has no alerts for the cities chosen at this particular time. 
- If there are alerts then click on the gear looking icon within our app. Make sure the background button is set to green.
- Close the app. This will put it in background
- Don't flick it out of memory
- Close your device and put it on a charger and wait 15-30 mins. Alerts will be sent if there are any issued by NOAA.

3. Still have more questions?
If you experience a problem then contact our support. Leaving a bad review helps neither you nor anyone else.  We respond to all emails within 24 hours. Email us at simplegames732 at gmail.com
TAG: app, iPhone & iPad,Weather
---
Similar Apps
---
More from developer
---